MIDPOINT Feature Launch 2022
A professional script- and project-development program for creative teams and aspiring script consultants who believe in the importance of teamwork.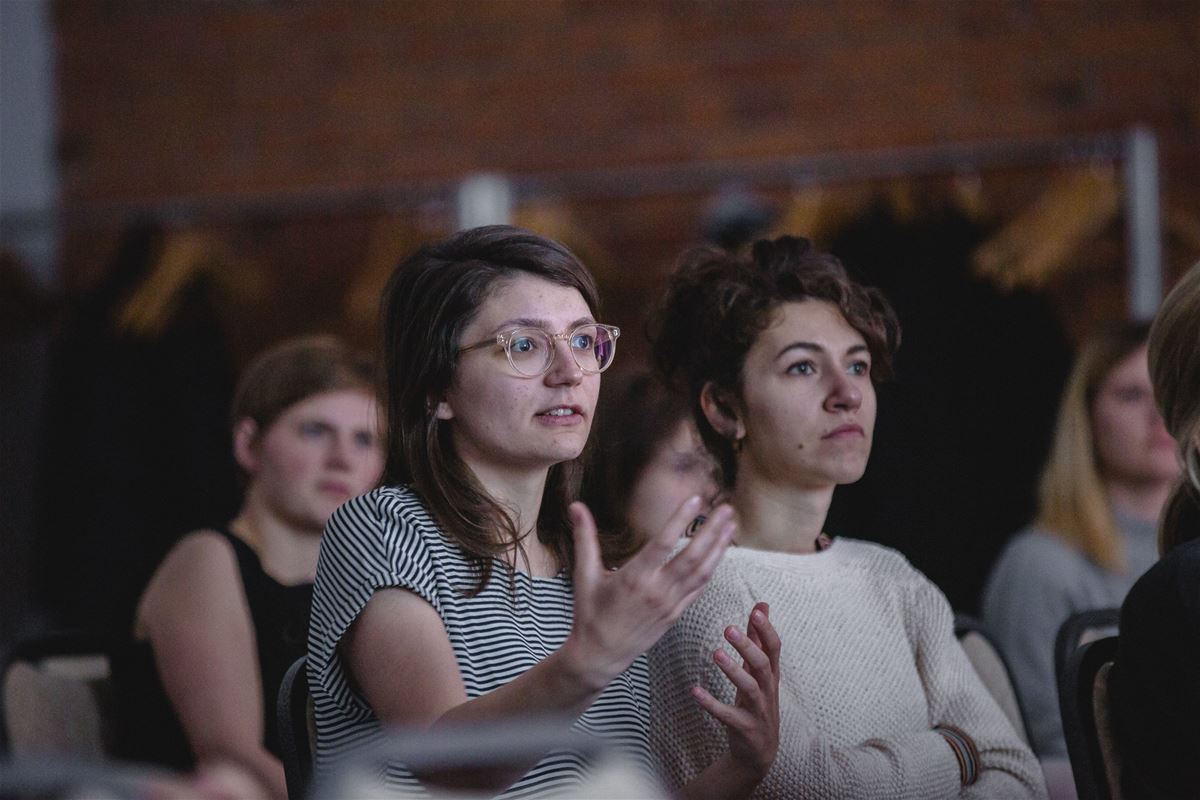 The information on this page may be temporarily incomplete. Thanks for understanding.
Benefits
An exquisite experience
The program targets creative teams with feature films in development & aspiring script consultants coming primarily from Central and Eastern Europe.
For teams of writers, 1st or 2nd time directors and producers
move your feature film project to the next level
create a financing, marketing, sales, distribution or pitching strategy for your project
work with some of the most established European and international creators and professionals who are willing to lay the cards out on the table (good or bad)
get unique professional international feedback from our tutors and your peers
explore the current film industry landscape and trends
pitch it & network at Karlovy Vary IFF
For Script Consultant Trainees
learn to give constructive feedback
enhance your script editing and communication skills in the creative process
train your presentation skills
become the next generation of script editors
make the next step in your career
pitch yourself & network at Karlovy Vary IFF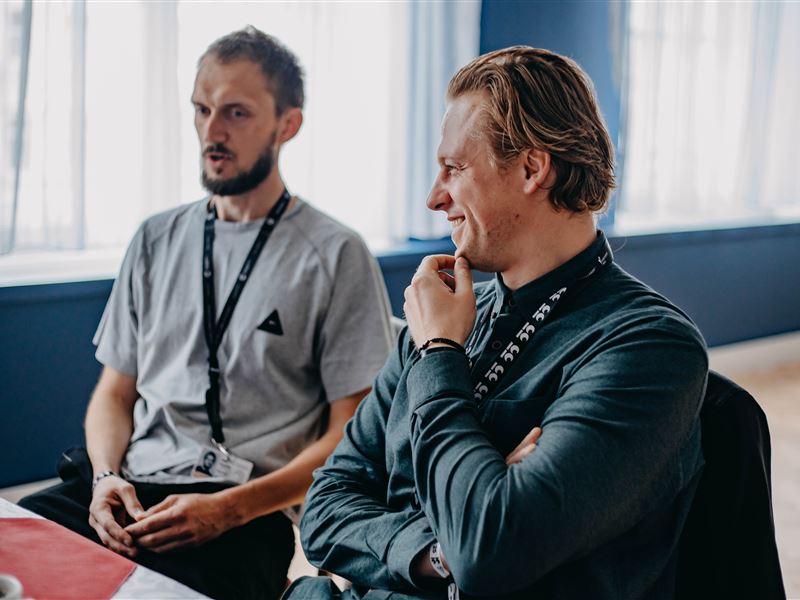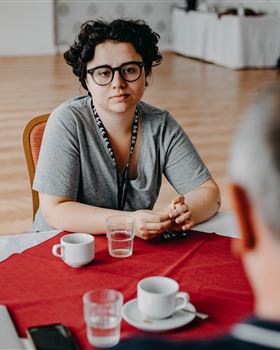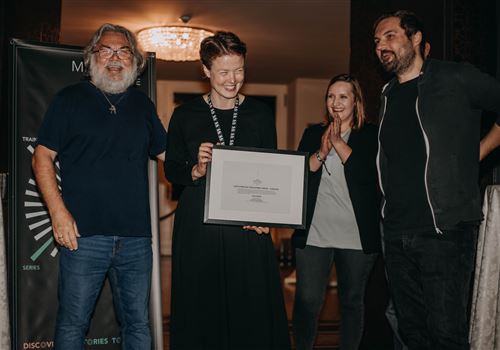 We came here with characters and plot. We came out with a story.
Pauls Kesteris
Director, Feature Launch 2021 Alumnus
Script Consultant Trainees

Preparatory Seminar

February/March 2022 | TBC

Script consultant trainees are briefed and pre-trained by their mentor. The aim is to get acquainted with their mentor, the projects and gain the fundamentals of script consultancy.

 

All participants

Workshop 1

March 2022 | Slovakia

TEAMS WITH PROJECT

Workshop 1 focuses mainly on creative development and structural dramaturgy while also allowing the participants to gain deeper knowledge about other aspects of the industry such as film financing or market positioning.

Tailor-made online consultations follow the workshop according to the needs of each project.

SCRIPT CONSULTANT TRAINEES

The script consultant trainees are trained by both their trainee mentor who supervises their entire learning process, and Feature Launch tutors, who help them understand the different approaches and strategies they use while developing feature film projects. Each trainee is assigned to a group of projects and works closely with the script consultant tutor and the participants on the development of their scripts. In addition, the trainees regularly meet their trainee mentor and review their learning progress.

Through this process, the trainees are acquainted with the script and development aspects of developing a film project, enhance their communication skills in the creative process and most importantly, learn how to give constructive feedback to the creative teams to help them move forward in their development.

All participants

Workshop 2

May 2022 | online

Online individual consultations, group work, lectures focused on script/treatment development (writing a new step outline or other assignments given by group leaders with respect to the project), financing plan, production financing plan. Individual consultations serve the purpose of the tutors to consult every project individually in the interim process between the workshops, giving their feedback and notes. The group work enables to incorporate feedbacks also from the fellow participants.

All participants

Workshop 3

June-July 2022 | Prague and Karlovy Vary, Czech Republic

TEAMS WITH PROJECT

The workshop serves as a platform to further advance the scripts, while it also incorporates marketing and sales strategies into the development process. Workshop 2 also includes an intensive training which addresses the crucial matters connected to presentation skills and promotion as well as the basics of business development and sustainability training. This workshop is immediately followed by the Works in development - Feature Launch project showcase at the Karlovy Vary IFF, where all 9 selected projects are presented to an audience of industry decision makers, including funders, sales agents, producers and festival programmers. One-to-one meetings and further networking follow the presentations.

The program Awards are handed within this workshop.

SCRIPT CONSULTANT TRAINEES

The script consultant trainees continue to witness the different stages of development of the projects up through the final presentation at Karlovy Vary IFF. They are present at the pitching training and rehearsals of the projects and also prepare for their own presentations, to pitch themselves as industry professionals during the pitching forum at KVIFF. They will also use the networking opportunities at the event for their future careers.

All participants

Workshop 4

Autumn 2022 | online

Individual consultations, group works, master classes, lectures focused on marketing and distribution strategies including new formats (new opportunities for cross-media promotion and distribution particularly exploring the options of digital and social platforms), introduction to the company development training, individual consultations with script consultants and producer tutor.

Producers

Company Time for Producers

January 2023 | Trieste, Italy

Follow-up workshop Company Time offers producer participants of the Feature Launch program the support in the area of company sustainability and strategic business planning. This training is designed and co-organized with our partner EAVE.

The workshop is led by Linda Beath, project financing and strategic business planning expert consulting European and international producers. Her areas of expertise also include policy issues or new business models involving digital media.

During 4 working days, the participants will enhance their entrepreneurial skills, analyse their companies, and get feedback both from Linda, and renowned experts from European film industry who will share their personal experience in leading their businesses – in and outside the region of Central and Eastern Europe.

Moreover, the workshop is running in the frame of When East Meets West, therefore the participants would be able to join its industry program, network, and approach potential business partners.

After the workshop, the participants will get an opportunity to attend online follow-up with an expert to further discuss the individual strategy for their company.
References
Huge motivation boost and way to move you project to the next level
I feel like participating in the program was crucial to this project, and that working with mentors and colleagues was a great privilege.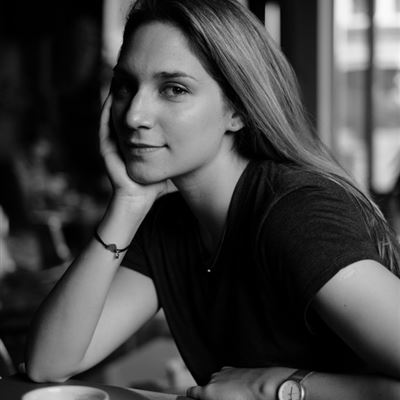 Judita Gamulin
Director, Feature Launch 2021 Alumna
It helped our team have a clearer vision of what our movie is and should be.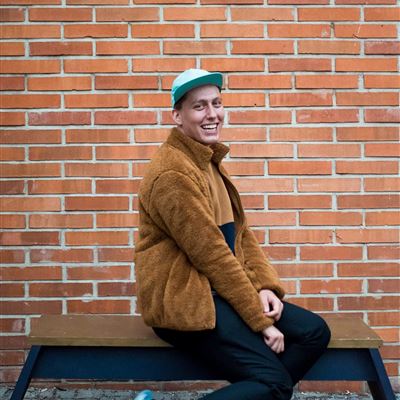 Šimon Holý
Director, Feature Launch 2021 Alumnus
Such dedicated group leaders, trainers and guest speakers really boost the motivation of the team and help the project evolve to the next level!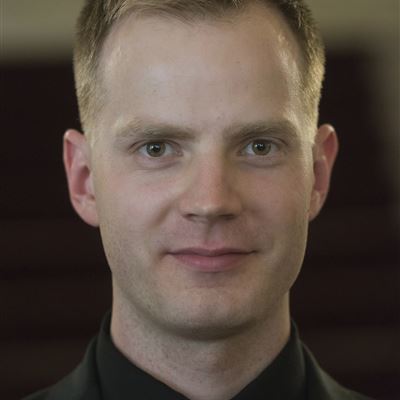 Maario Masing
Producer, Feature Launch 2021 Alumnus
An all encompassing script and project development experience. Focused, detailed and full of energy.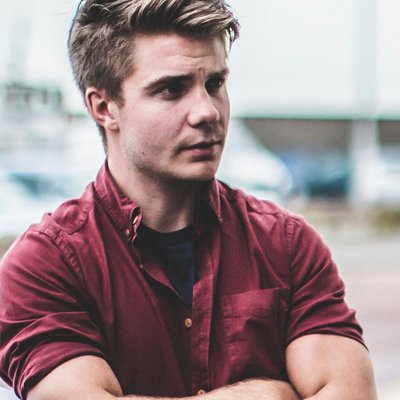 Greer Ellison
Writer, Feature Launch 2021 Alumnus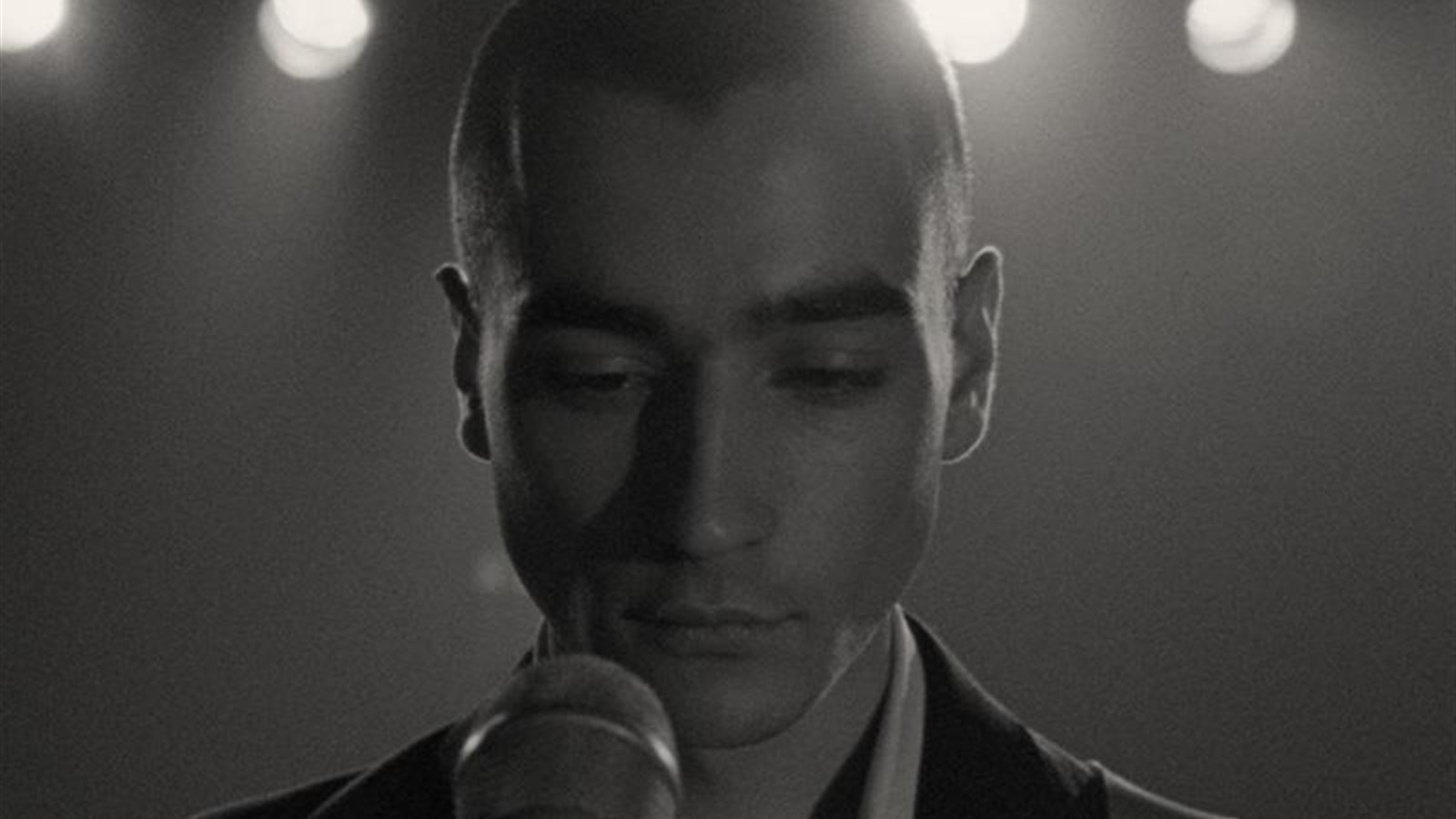 Erasing Frank
Directed by Gábor Fabricius
Hungary, 2021, 99 min
1983. Frank, an angry kid from the streets with "no future". The state banned their music because their words are political. Frank escapes to a psychiatric ward where Hanna, a young enemy of the system, joins him.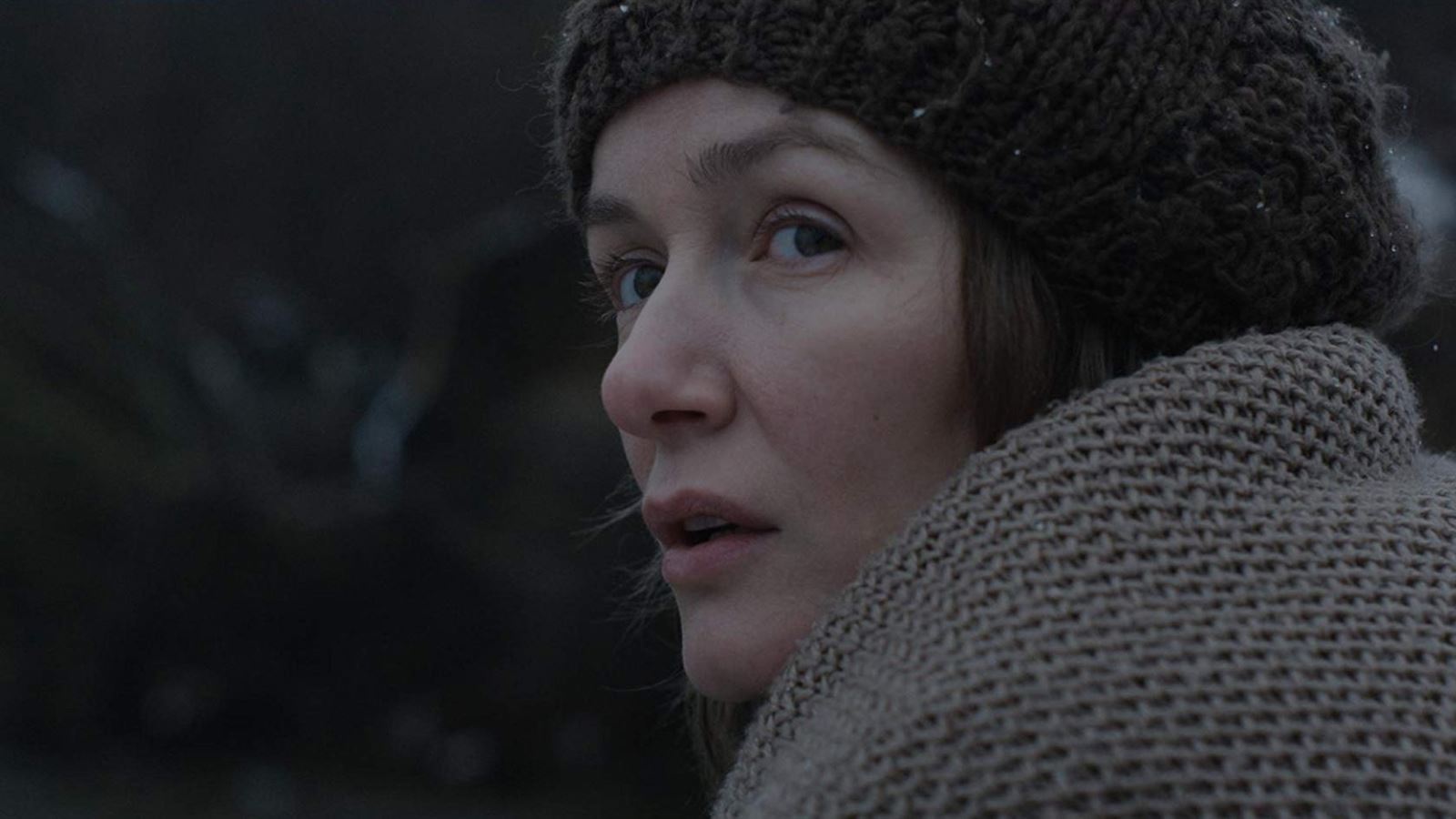 Zana
Dark and haunting psychological drama about the collision of modern day faith healers and post-war trauma of survivors in Kosovo.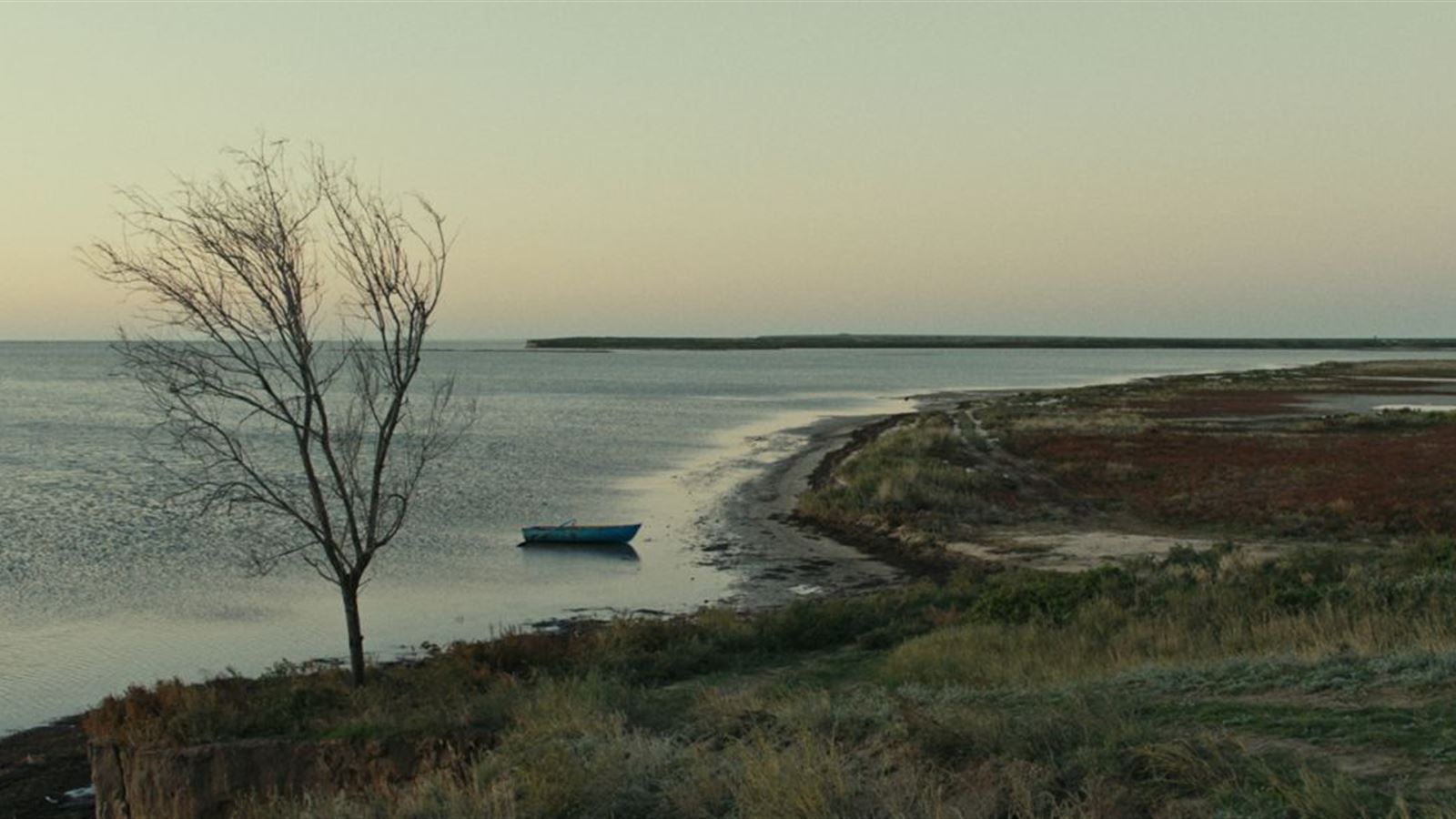 Homeward
A father and a son from Crimean Tatar family transport the body of deceased older son and brother from Kyiv to bury him in Crimea.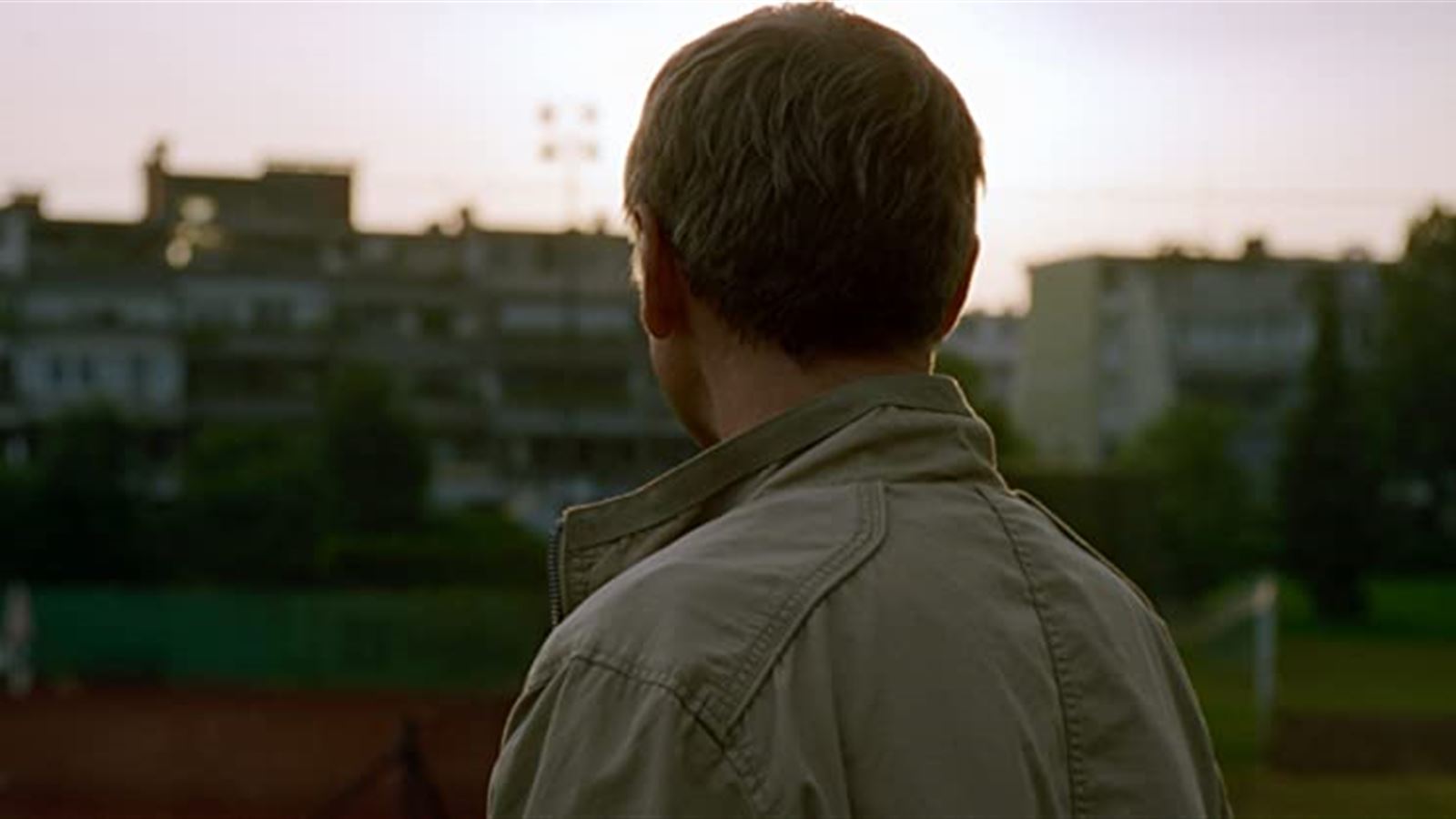 Inventory
Boris Robič is, as we like to say, an ordinary man. One evening he gets brutally attacked at his home. The police arrives, and open the investigation.There are no suspects, and it seems that no one could possibly be interested in shooting Boris. The police eventually suspend the investigation, convinced that the shooting was a mere coincidence. Riddled with doubt, he starts investigating on his own. While searching for the potential perpetrators, we follow a tragicomic path of a man who discovers that more people hate him than he would ever have thought possible and that the perceptions that he has of his own life are nothing but illusions.
All success stories
How to apply & requirements
Take the first step towards your MIDPOINT journey
Fee
1,500 EUR
writers, directors, trainees
Possible to pay in installments. The fee includes accommodation, board and tuition during the workshops. Travel costs are NOT included. Scholarships are available.
Fee
1,800 EUR
producers
Possible to pay in installments. The fee includes accommodation, board and tuition during the workshops. Travel costs are NOT included. Scholarships are available.
APPLICATION DEADLINE
Closed
Who can apply
teams of writers and/or directors and producers (max. 3 participants per team) with projects of first and second feature films (the rule regarding first or second feature film applies only to the director)
aspiring script consultants
Application requirements
To apply for the workshop, please create an account on the MIDPOINT Institute Visitor Page and follow the instructions within the submission form.
The instructions will contain detailed regulations and further information on the requested materials.
All applicants will be informed about the selection results in January 2022. You may expect to be asked for an online interview.
Required materials:

For Script Consultant Trainees
basic information about the applicant
applicant's statement of purpose
scene analysis
short professional biography
photo
For Projects
basic information about the project
logline
synopsis
treatment or script
writer's note
director's note
producer's package
- preliminary financing plan of the project
- development & production timetable of the project
- brief distribution strategy of the project
- profile of the production company
- producer's letter elaborating the strategy
- elaboration on the co-production potential with Central and Eastern Europe (required only for projects outside of the CEE region)
short professional biographies of all team members
photos of all team members
previous work of the writer
previous reference script(s) of the writer in English
previous work of the director
Contact
Did we forget something? Don't hesitate to ask